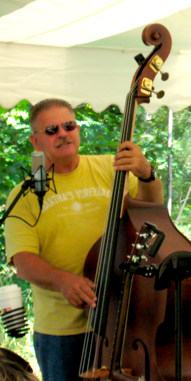 Steve Abdu


Steve Abdu, originally from Brockton, MA, now residing in New Hampton, NH, has been playing bass since his high school days. Steve's driving bass and baritone vocal is the perfect ingredient to add color to the NewFound Grass sound.

Steve has played bass since his high school days when his friends had a band and needed a bass player. Day one, get a bass, day 2, join the band. He hasn't looked back since! His influences include Motown, Roy Orbison, The Beatles and a host of other great bands.

In the early seventies, Steve was a member of London Records recording artists "Orphan". Orphan was the headlining act at many colleges and concerts across the country and also opened for such bands as the Allman Brothers, The Byrds, BB King, Blood Sweat and Tears, The Steve Miller Band and Hot Tuna to name a few. Steve has also played bass with Jonathan Edwards and Martin Mull.